Best Preschools and Daycare in Manyata, Bangalore

Bangalore, the Silicon Valley of India and one of the cities which have its own ability to change, innovate, and adjust to constantly evolving circumstances. If you're a working parent with children, then you always concern for putting your kids in the best preschool or daycare.
KLAY Preschool and Daycare is India's most trusted parenting partner. KLAY has a large network of centres across India and is recognized for world-class early years education and care. Every centre has meticulously designed learning spaces and a passionate set of teachers and caregivers who provide a safe, welcoming and stimulating environment for children. Here is the list of best preschools and daycare in Manyata, Bangalore by Klay.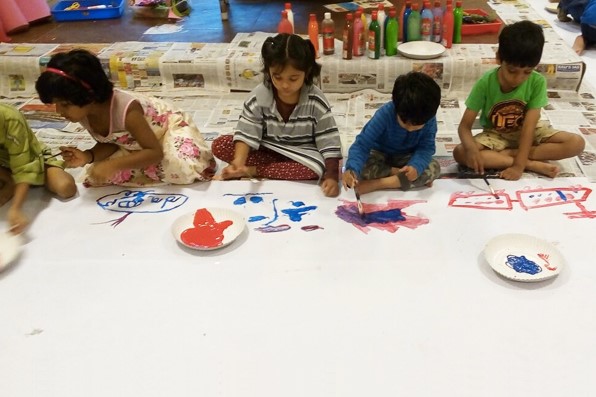 This Klay center is one of the best preschool and daycare in Manyata, located in the heart of Manyata Embassy Business park providing the best child care facility. Which makes it safer and easier for parents working and living on the same campus and around to drop off and pick up their little ones.
With the working hours from 9 am to 7 pm on weekdays, we have well trained, qualified &caring teachers that have the educational qualifications, knowledge and professional commitment necessary to promote children's learning and development.
Programs
Facilities
Age Appropriate Lead-free toys and learning aids
Large play areas lit by natural light
Learning centers for music and movement, storytelling, art and literary enrichment activities
Temperature controlled indoor environments
Secure Access Systems and real-time CCTV access
Trained nursing staff
Detailed SOPS for seamless center Operations management
Curriculum:
Our curriculum is focused on creating a learning environment that starts children down a road toward academic success, to enhance toddlers' skills and knowledge, our learning philosophy is based on Multiple Intelligence, inquiry-based learning and experiential learning.
Website: https://www.klayschools.com/daycare-playschool/manyata/
Phone: 767 670 8888
Address: KLAY Prep Schools and Day Care, Block E1 "Beech" First Floor, Esc Food Court, Manyata Embassy Business Park, Nagavara O.R.R. Blr-45
FAQs | Day Care & Child Care Questions
1. How can I enrol?
Visit this link for admission enquiry and enrolment.
2.What age children, do you serve?
Klay caters to children aged between 6 months and 10 years.
3. Are meals provided at the centre?
We provide optional 3 nutritious meals each day and parents can opt to send food with their child.
4. Can I visit my child at the centre anytime I'd like to?
Yes, you are encouraged to visit your child anytime, but only outside the classrooms to avoid disturbing other children. Further, a settlement period of 1 week is provided wherein parents can see through the activities of their children in the classrooms for 2 days.
5. For how many hours can I keep my child at the daycare centre?
At Klay, our full daycare timing is from 6 am-9 pm with extended full daycare 8:30 am – 7:30 pm. Also, we provide emergency/backup care only for registered parents
6. Is there a dedicated nap area?
Yes, the Klay centre has a dedicated nap area, but bed linen needs to bring from home
7. Would you provide toilet training for my child?
Yes, we provide toilet training experience as positive, natural within the context of helping the child develop self-esteem and independence.
8. What is your children-to-teacher ratio?
At Klay, we ensure complete transparency and an ideal child to adult ratio with adequate and qualified staff.
9. What security measures are in place to protect my child?
Our classroom walls and doors are always transparent giving children a sense of space and safety. We have finger guards on every door to safeguard the little fingers from getting hurt.