The Making of a Fussy Eater

"My kid is a fussy eater" – said no parent with pride ever! I'm pretty sure if I was more regular with my blogs, every second note would be on my daughter's breakfast/lunch/dinner time shenanigans and my struggle with child nutrition.
She has always been very picky about the food that goes into her system. We realised this early during the toddler days and still fail to incorporate the recommended healthy eating habits in kids.
On one of our morning walks, I bought her a Lollipop (I generally go slow on buying her candies). Waiting for the time till she starts adding them in the cart on her own anyway!
The return journey was the most exciting 5 minutes for her, holding the lollipop, waiting to pop it into her mouth. When the moment arrived, she savoured it with never-have-I-seen-it-before indulgence. She even licked the wrapper and the stick to check if they are as awesome too! She loved those 30 seconds with her lollipop – over the moon, joyous with her magical laughter.
The moment of truth arrived when she took a bite of that perfectly round sphere. What she was eating was still good but what she was holding on to was not a round sphere anymore! She ditched the lollipop in a fraction of a second, what we call in adult terms – 'a disappointment'.
Till that day, I skirted aside her healthy eating habits as toddler tantrums, but here I was, staring at her, wondering what shape has got to do with candy? Especially for a 2-year-old!
Do they come pre-loaded with their own idea of how food is supposed to be? Is there any way to over-write that module, maybe tweak it here and there, do a Replace All on 'This food tastes bleh' to 'Yay, food'? There are thousands of words written on blogs/books/tips/WhatsApp forwards/Facebook posts/websites on 'how to handle picky eaters' and 'how to go about your child's appetite' but nothing prepares you to implement healthy eating habits in kids in the 20 minutes you have before heading out to the office! Especially when my healthy child nutrition habits vis-à-vis her food expectation diagram looks like this –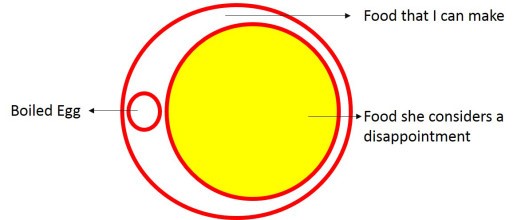 PS: In toddler world, this diagram changes its dynamics every alternate day!
PPS: I'm still glad she dropped the Lollipop!
About Alpana Nagar
A marketing and business development professional, generally a good executioner at work, madly in love with my daughter, a nagging wife, always inspired by my mom, juggling work, home and a toddler without any guilt, still figuring out my true calling while paying the EMIs!