KLAY Recommends: Get Creative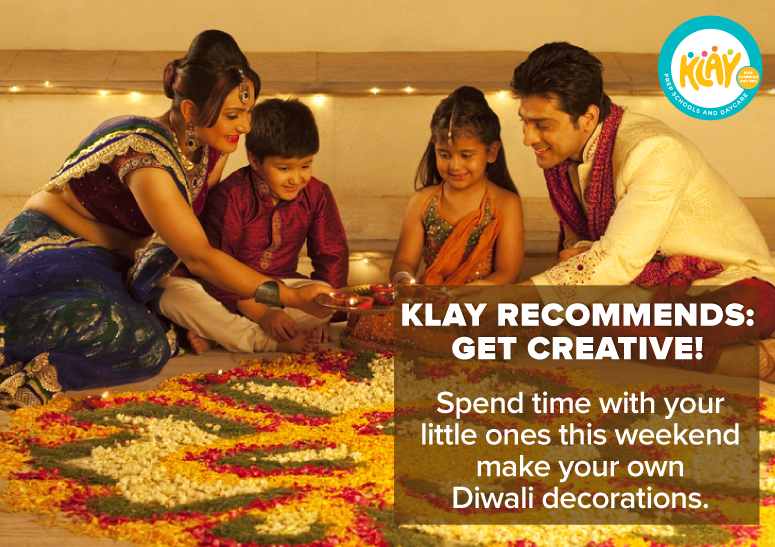 This Diwali, give your little ones the most precious and memorable gift – your time. The best way you can make lifelong memories is to get creative together! So, grab all your art supplies, put your creative caps on and start coming up with cool Diwali DIY!
If you're stuck, here's a list of fabulously fun DIY Diwali décor you and your little one can start off with.
1. Hanging Diwali lamps: With a sheet of colored paper or thin cardboard, you can make a simple hanging lamp stand. All you need to do is to take the sheet, roll it to make a circular tube and cut strips. And stick a thick cardboard piece on one of the ends of the tube so that it supports the lamp.
2. Paper Garlands: You can make paper garlands to hand on your windows or by the door. For this you will need papers which are cut into certain shapes which can include animal figures and others, hang them through a string, and voila, your garland is ready!
3. Diwali Greeting card: For this greeting card, you'll need thin long paper strips. You need to roll up these paper strips such that they are roughly the shape of oil lamps and also make rolls that represent the flames. Now, stick them on to a greeting card and write your message on the card.
4. Diwali Diya Paper Craft: Here's another Diwali lamp craft that can be easily made. All you need is a cardboard sheet or paper plate and a piece of glitter paper for the flame. Cut the cardboard sheet or paper plate to the shape of diya or earthen lamp and on top of it, stick the gold glitter paper cut in the shape of a flame.
5. Diwali Lamp wreath: You can make this Diwali lamp garland to decorate your house. For this, you'll need to make diyas or lamps – cut out from different colored papers. Then, take a strong piece of cardboard and cut it into a big ring and start sticking these paper lamps on to the ring.
6. Old Bangles Lamp holder: For this craft, you'll need old bangles of yours, preferably glass bangles of different colors! All you need to do is to glue these bangles on top of one another. At the bottom, stick a tea cup cover to hold the lamp . Place your diya in the middle and voila, you have a beautiful lamp.
7. Paper Roll Tubes Fireworks: If you have paper roll tubes lying around in your house, then you can use them to make fireworks. Well, not real fireworks of course, but decorative ones. All you need to do is to get these tubes, color them with different colors or simply glue different gift wrap papers around them. Also, glue some strips of paper at the bottom. Now, you can decorate them as porch hangings.
8. Glittering Sparklers: This craft is for your children who are too young to handle sparklers. For them, you can make glittering sparklers which are as good as real ones and they don't burn. For this you'll need rolled papers or pencils and loads of glitter paper strips, Take a handful of these glitter strips and glue them on top of the rolled paper or pencils.
9. Diwali Gift Box: For this craft, you'll need tissue paper tube or cardboard tubes. Decorate them with your favorite colored glitter paper or gift wrap and on top glue some glitter paper strips. Inside the box, you can include goodies such as candy or chocolate and gift them to your friends or relatives.
Here's wishing you a fun-filled, creative and safe Diwali!