Eat, Sleep, Walk, Repeat: Incorporating nutrition and fitness in our daily schedules

This topic was a bit difficult for me to write about. We're pretty good on nutrition, but I'm not really the poster child for fitness. Both me and my husband work long hours, and Sid is…well like any hyper-energetic 3-year-old. So, nutrition and fitness can sometimes not be the most pressing priority in our household. I'm sure there are many parents (read as "perpetually busy and tired humans") reading this, shaking their heads in agreement.
So, here's the "scoop" on how we make it work in our household.
Salads – We all (Sid included) eat one serving of salad a day as part of our meal plan. Luckily, Sid loves raw veggies and prefers them to their cooked cousins. We usually carry our salads for lunch. In fact, my husband and son are often seen fighting each other for cucumbers, fruits, and carrots.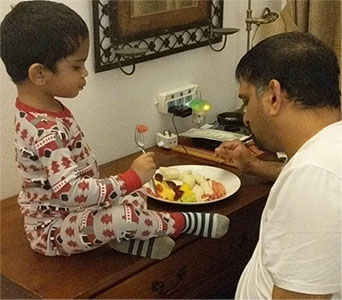 The salad is the easiest meal prep and if you can get a little creative, and plan "chopping duties" well, there are so many options. I've posted some links to my favorite salads at the end of the post. Here's a picture of our weekly prep chart.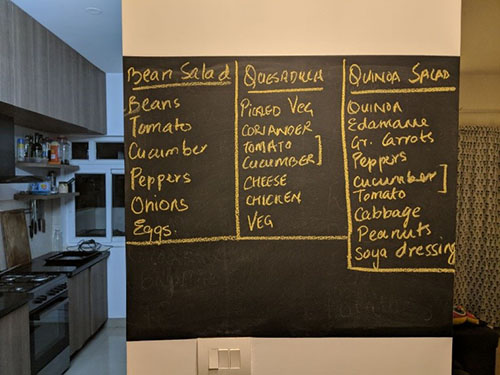 Physical activity – Sid gets plenty of physical activity every day. Apart from the acrobatics I see him do on the CCTV every day at the daycare program at KLAY, he gets an hour of playground time in the evening as part of the fun activities for kids. I wish my husband and I were better at getting a workout every day, but we try to get a walk or run in every now and then as part of our daily fitness tips. Vacation time and weekends are when we get the most exercise in. A lot of our workouts involve running behind Sid (surprise surprise!)
Balance – We make sure that while nutrition and fitness are important, Sid is also exposed to multiple cuisines. He also gets chocolate for being good, and papad when he's feeling low as part of his intake of healthy food to gain weight. We make sure that there are no banned foods, so he never has a craving when it comes to child nutrition. Over a period, we've gotten him excited about bitter gourd, sushi, methi, fruits, spinach, etc. There are no "cheat days" so we try to prevent binges by being balanced every day.
4. Fluids – Child nutrition is one I'm very passionate about. More than milk, I make sure Sid gets plenty of water and some fresh juice. Bangalore's dry weather has been troublesome for his eczema, and so hydration is important. We adults drink detox water and green tea lemonades every single day. Again, it's very easy to prep and store. There are tons of recipes out there to make things interesting.
Milk and dairy – I limit Sid to one cup of milk a day. He's prone to allergies and milk tends to make allergies worse in the long run. We all get our daily dairy intake in the form of curd or paneer.
So that was my list. I don't think there's one perfect set of nutrition and daily fitness tips to follow. I'm sure you all have your own versions of child nutrition. Would love to hear from you on what works best for your family.
In full disclosure, there are days in our home when we just give up on everything and eat Maggi and chips. Oh well…. *shrug*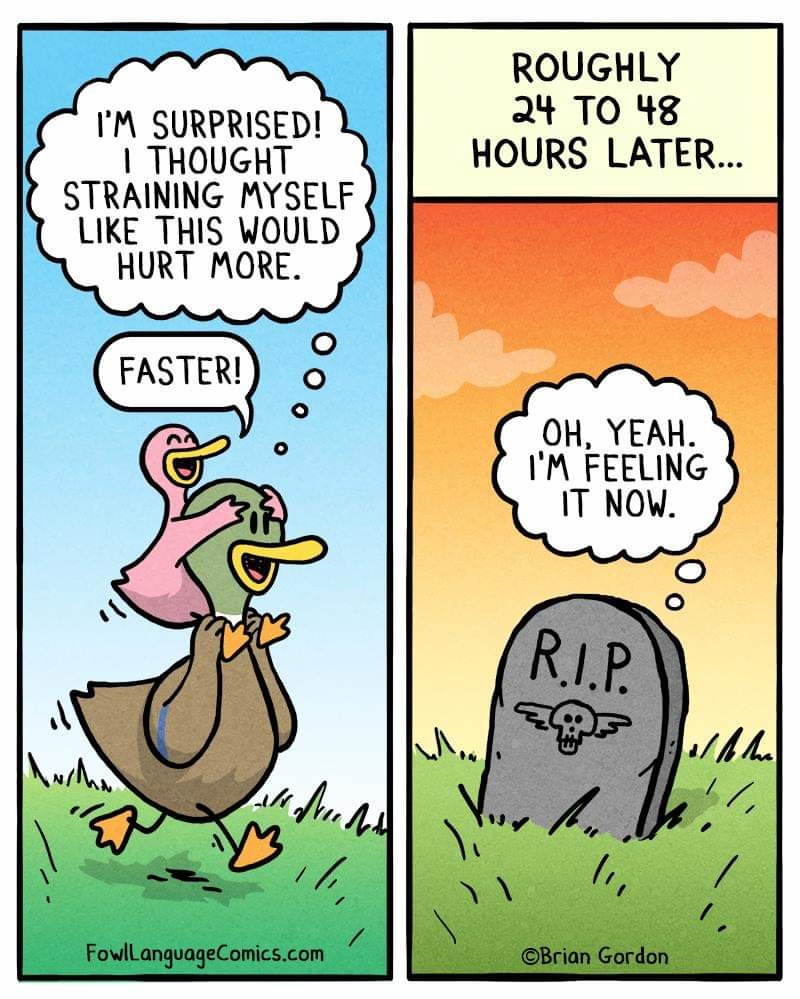 My favourite salads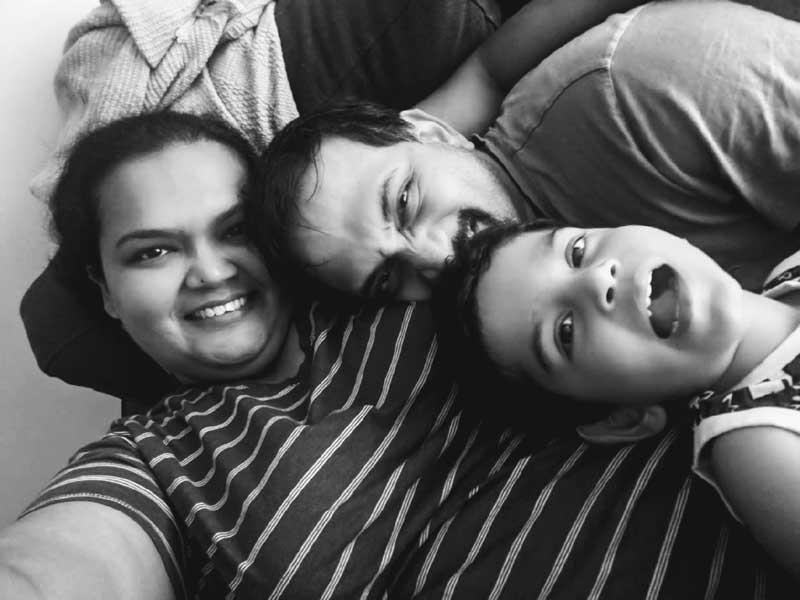 Nayona Agrawal
If I had to use one word to describe myself, it would be "overwhelmed". I'm overwhelmed with being a working mom, with the unconditional love I get from my sweet boy, and mostly with the support and partnership, I get from my amazing husband. Our loving nuclear family along with our pillars of support, call Bangalore home. We're fumbling along the parenting journey, making a few mistakes, but mostly enjoying every moment with Sid. Our mantra – to laugh through the good and the not-so-good times.