Healthy Snacking Options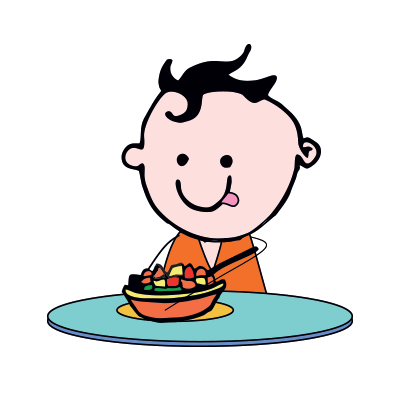 Kids love to snack and dig into all those yummy delights you prepare for them. But as parents it is our responsibility to offer our children with only healthy treats rather than serving snacks that are really sugary and high on calories. So if you are at your wits end with what new you can serve your child that is both nutritional and tasty then here is a list of healthy snacking options you can explore.
Smoothies: This colourful and tasty treat is packed with nutrients. Smoothies are a perfect way to tempt your child into guzzling some fruit power. All you need is yogurt and fruits that are high in vitamin, fibre and other nutrients.
Fruity Treats: Fruits are a perfect way to satisfy your child's sweet tooth cravings. You can include vitamin and fibre rich fruits like apples, bananas, berries, pears, oranges and much more by being innovative about the way you serve it to your child. Try fruit kebabs where you take a skewer and string fruits of different colours together. The other way to make your child eat fruits is to make whole wheat baked desserts stuffed with fruity delights.
Peanut Butter: This humble treat is packed with protein and fibre. Turn your ordinary peanut butter sandwich irresistible to your child by cutting it in interesting shapes or by using jelly to draw a smiley on it. You can also try peanut butter with berries and yogurt to make a yummy frozen delight that's super fun to eat. Even peanut butter cookies and brownies make great healthy snacking options.
Veggie Delights: Vegetables and children have a love-hate relationship. All you need is the power of disguise so that your kid gets his/her daily dose of nutrition. You can prepare baked vegetable puffs, yummy soups, cutlets in cute shapes, baked chips and much more to make your child enjoy his/her veggie snacks.
Hummus: Made from pureed chickpeas, hummus makes a delectable dip for children as it is packed with folate, vitamin B6 and iron. Serve hummus to your child with cut vegetables and pita bread.
Popcorn: This indeed is one of the best healthy snacking option. Popcorn is high on fibre and is very low in calories. Remember to not buy processed popcorn but to make some at home. You can also get your child involved in the process. Watch and enjoy their amusement when the corn pops and turns into this white little fluff.
Healthy Potato Fries: This is far healthier than regular French fries and greasy chips. All you need to do is replace your regular spud with sweet potatoes, cut it in the shape you desire and bake it. Sweet potatoes are packed with vitamin A, B6, C and folate that are essential for your child's nutrition.
Yogurt: It is an excellent source of calcium. Make the plain yogurt irresistible to you child my adding colourful fruits and mineral packed nuts in it. You can also add fresh fruit pulp to make some fresh homemade flavoured yogurt. Further, replace the sugary store-bought frozen pops with some yummy yogurt pops made from fresh ingredients and berries.
Remember, healthy snacking options ensure that your child is receiving the right amount of nutrition throughout the day. It is also the best way to keep your child away from food options that are unhealthy for your child's well-being.
These tips are brought to you by KLAY Schools. We are a chain of high quality Pre-school and Day Care Centre. We are currently located in Bangalore, Mumbai, Gurgaon, Hyderabad, Delhi, Noida, Guntur and Ahmedabad. Visit our centre today, to enroll your little one!